June is Pride Month, a time for us to celebrate, show support, and raise awareness of LGBTQ+ rights.

The inherent openness of open source lends itself to inclusiveness and diversity. As such, it's a community to support LGBTQ+ rights.
As an out gay man and a founding member of the Synopsys PRIDE Employee Resource Group, I am especially appreciative to be working in the rapidly growing open source space. I am a senior manager in the Black Duck® audit services team, and most of my time is spent helping global acquirers identify open source issues in fast-paced tech transactions.
My job also allows me to be a part of the Synopsys Cybersecurity Research Center (CyRC) that curates and validates the data for the 2022 "Open Source Security and Risk Analysis" (OSSRA) report each year.
The OSSRA report provides an in-depth look at the current state of open source security, compliance, licensing, and code quality risks in commercial software. If you have already downloaded the OSSRA report, you will have seen that the 2022 report is a rainbow of color. I personally feel that this symbolizes the ever-growing, inclusive, and diverse open source community.

Growth of open source
Open source continues to dominate application development, where it represented 78% of the code analyzed during Black Duck audits in 2021. This has significantly increased over the last five years—open source represented only 36% in 2016.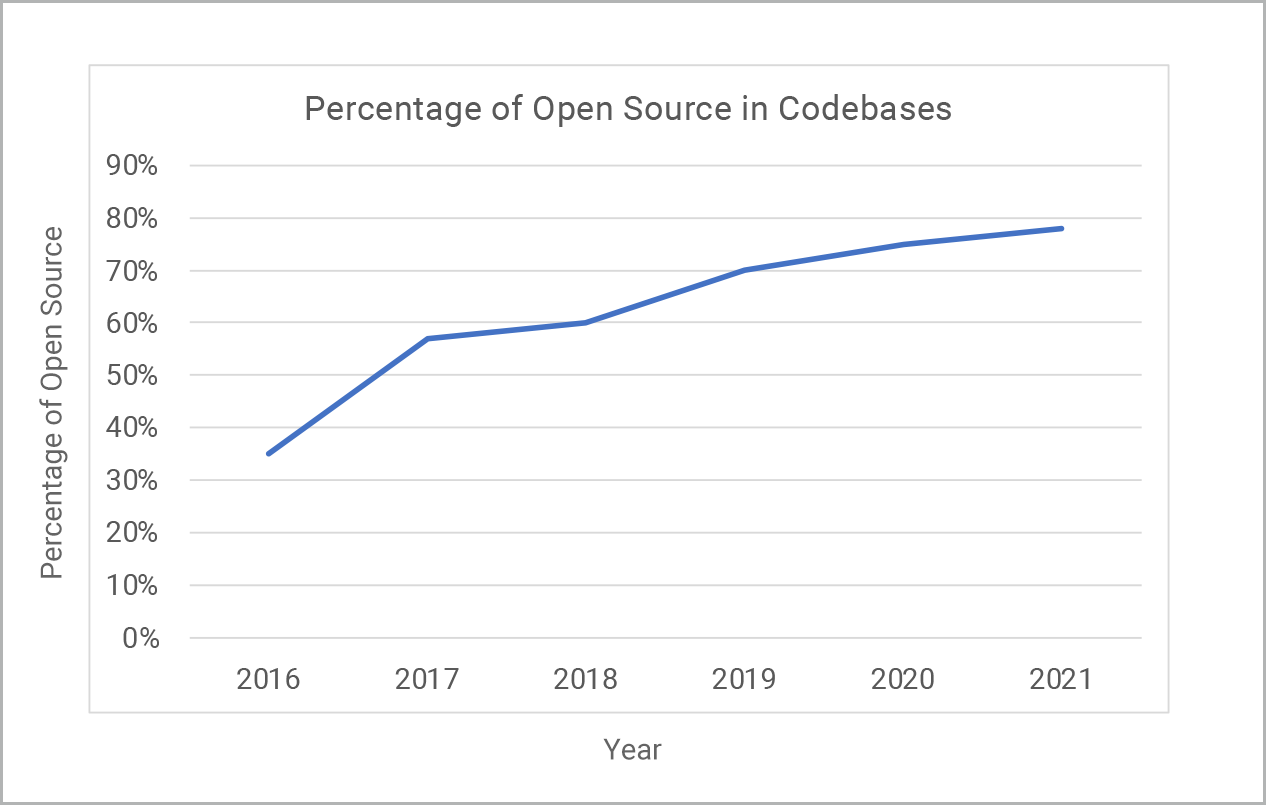 The growth of open source can be attributed to the success of the growing inclusive and diverse open source community. According to the Linux Foundation's report, "Diversity, Equity, and Inclusion in Open Source," 17% of open source contributors self-identify as lesbian, gay, bisexual, pansexual, asexual, or queer, and 4% identify as nonbinary or third gender.
LGBTQ+ open source projects
As open source continues to be leveraged in global industries, so does its diversity. A diverse community is a stronger community. The millions of open source projects available on the internet cover just about any kind of application you can think of. So although it's no surprise, it's still worth celebrating this collection of LGBTQ+ open source projects.
Refuge Restrooms
Refuge Restrooms is a web application that provides safe restroom access for transgender, intersex, and gender nonconforming individuals. Users can search for restrooms by proximity to a search location, add new restroom listings, and comment and rate existing listings.
QueerMap
QueerMap by qiekub offers a map and an API that connects to community centers and other helpful information for queer (LGBTQ+) people. Users are encouraged to add new resources to this growing list.
Type With Pride
On March 31, 2017, Gilbert Baker, the creator of the iconic rainbow flag, sadly passed away. Baker was an LGBTQ activist and an artist, and he was known for helping friends create banners for protests and marches. To honor the memory of Gilbert Baker, NewFest and NYC Pride partnered with Ogilvy & Mather and Fontself to create free fonts inspired by the design language of the iconic rainbow flag, the typeface was named Gilbert after Baker.

Pride VSCode themes
These Pride Visual Studio Code themes allow you to code with a bit more pride.
LGBT Pride in GitHub repository languages
If you are an open source contributor, show your support this Pride Month by changing your GitHub repository language colors to a rainbow.

On behalf of Synopsys, I would like to wish everyone a Happy Pride!